Vaudeville
In 1865 the popularity of both melodramas and minstrel shows were at their peak, extravaganzas and spectacles were novel entertainment and visual feasts for audiences. Burlesque was developing as a low-brow comedic production with songs and relatively decent female costuming that appealed to the more open-minded portions of the public.
The broad range of popular theatrical productions was about to find place for a new upstart: the variety show or vaudeville. The essence of vaudeville (a term borrowed from France) or the variety show (preferred in the mid-19th century) was an evening of entertainment comprised of a wide variety of specialty acts. Variety shows first began in concert saloons – where a drinking bar and tables offered strong refreshments to accompany the sentimental or humorous songs, comedy, juggling, acrobatics, and dance routines on stage. Following in the English music hall model, the stage entertainment was designed to bring in patrons to drink rather than existing for its own purpose. By the mid-1860s the concert saloon with its objectionable material, liquor, tobacco smoking, and frequent audience roughhousing, was considered disreputable by the mainstream American public. Yet, in content, the fare of the concert saloons was not too dissimilar to the first act of the minstrel show or the interludes between melodrama acts or the burlesque show: a wide variety of unrelated specialty performances.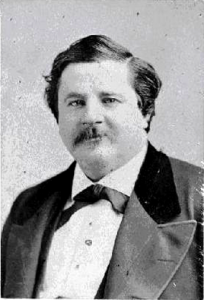 Enter ex-minstrel show performer Tony Pastor, who decided in 1865 that he was going to clean up the image of the variety or vaudeville show by taking out the drinking bars, sanitizing the songs, monologues and comic routines and make the variety show (he preferred the term to vaudeville) clean enough to bring the whole family. His performers were forbidden from smoking, drinking or swearing while in the theatre under penalty of fines or firing. All material, songs and acts would need to pass strict guidelines to assure that there would be no objectionable material allowed onstage. Together with B. F. Keith, a variety producer with similar convictions, Pastor rescued the variety or vaudeville show from the path that would eventually doom burlesque.
Each show, or bill, would contain between 8 and 15 acts: comedy teams with ethnic humor or sketches, legitimate actors and actresses with dramatic or sentimental monologues, popular or opera singers, song-and-dance teams, magicians, trained animal acts, jugglers, ventriloquists, and a wide range of other "variety" acts. Every performer would have to agree to a strict decency standard. Keith posted his backstage for all vaudeville performers to see:
"NOTICE TO PERFORMERS You are hereby warned that your act must be free from all vulgarity and suggestiveness in words, action, and costume, while playing in any of Mr. Keith's houses, and all vulgar, double-meaning an profane words and songs must be cut out of your act before the first performance. If you are in doubt as to what is right or wrong, submit it to the resident manager at rehearsal.
Such words as Liar, Slob, Son-of-a-Gun, Devil, Sucker, Damn, and all other words unfit for the ears of ladies and children, also any reference to questionable streets, resorts, localities, and barrooms, are prohibited under fire of instant discharge."
In addition to the variety acts and occasional sketches, vaudeville often found a special spot for a celebrity appearance; Babe Ruth, Helen Keller and temperance crusader Carrie Nation all made appearances in vaudeville shows. Aviator Charles Lindbergh turned down an offer of $100,000 a week to appear in a vaudeville show.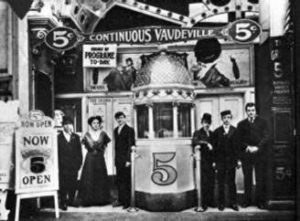 The formula of sanitized variety shows with a constantly changing performance bill appealed to the American public. Vaudeville 'circuits' stretched across the country connecting hundreds of theatres and providing "the best entertainment money can buy." Thousands of vaudeville acts played the circuit, bringing inoffensive family entertainment to millions of theatre goers. Smaller theatre circuits were developed to appeal to African-American, Italian and Yiddish vaudeville audiences. Most of the major entertainment stars at the beginning of the 20th century had been part of vaudeville in its later years including Bob Hope, Judy Garland, the Marx Brothers, Jack Benny, Milton Berle, the magician, Houdini, and a young George M. Cohan, who would be the most dynamic force in American musical theatre at the beginning of the 20th century. In the early 1900s, Tin Pan Alley composers like Irving Berlin were composing popular songs to be "plugged" or promoted in vaudeville shows.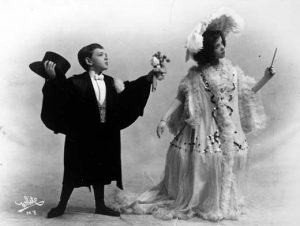 The beginning of the decline of vaudeville might have been signaled in 1902 when one vaudeville theatre owner began incorporating silent movies into the show bill. As the movie industry grew, more first run movie offerings found their way onto the vaudeville program. By the mid-'20s vaudeville theatres were showing full-length movies with a few opening variety acts and by the arrival of "talkies" – movies with sound – in the late '20s, vaudeville was rapidly dying. Vaudeville theatres and their circuits which had developed over fifty years were now movie theaters and circuits within four years. The better acts had found their way to Hollywood, Broadway or radio, the lesser acts either retired or played small, ethnic theatres such as those in the Yiddish "Borscht Belt" in upstate New York.
The elements which made vaudeville successful – a variety show of high-quality, family entertainment – became the essential touchstone for the burgeoning movie industry and the distribution structure of theatres and circuits assured the widespread availability of the new entertainment form. Unfortunately, the growth of one entertainment medium brought about the end of another.