Irving Berlin, George M. Cohan and Jerome Kern formed the first great set of songwriters for the American musical theatre genre at the beginning of the 20th century. While Cohan was a vaudeville performer and initially wrote songs for his own need, both Berlin and Kern began by composed songs for sheet music sales and, when fortunate, to include in someone else's shows.
Of the hundreds of Tin Pan Alley popular songwriters that were employed in the 1910s, only a few were able to broaden their appeal to include Broadway. In contrast, many hit Broadway songs found their way into the popular American music literature. Many of the standards of what is called the "American Songbook" were born into a musical theatre home before being adopted by popular culture.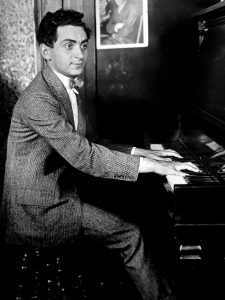 Irving Berlin thrived in several worlds of stage entertainment – equally successful as a popular song writer in Tin Pan Alley and as songwriter for vaudeville and the newer forms of American musical theatre, including the Ziegfeld Follies of 1919. Years later he would also be a part of the movement which brought musical theatre to the motion pictures.
Born in Russia, Israel Baline was the son of Jewish cantor. At age two, he and his family fled to New York to escape anti-Semite raids by the Russian Cossacks.
At age fourteen his ran away from home and earned pennies by entertaining saloon and restaurant patrons with his singing. Discovering an abandoned upright piano in the back of a saloon, he spent night after night at the keyboard, determined to learn to play. While he became proficient enough to play and compose his music, his skill was limited to playing only on the black keys and in one key: F sharp. Years later he would purchase a "transposing" piano which was equipped with a slide mechanism to shift the keyboard so that he could play in other keys.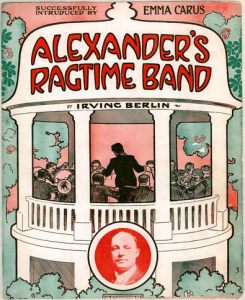 Similar to other songwriters of the era, his first job was as a "song plugger," demonstrating the latest sheet music to patrons in stores. One of his first published songs helped popularize a new form of music coming from the Midwest called "ragtime." His 1911 world-wide hit, "Alexander's Ragtime Band" – set the stage for hundreds of "ragtime songs" and eventually the acceptance of ragtime's progeny, jazz.
During the 1910s, Berlin wrote Tin Pan Alley (popular) songs, songs for revues, and his first book-musical in 1914. Many of the dance "crazes" of the late 1910s and '20s were either started by or assisted by Berlin songs. When drafted into the army at age thirty, Berlin brought his songwriting talent with him. Known for his sense of humor in his songs as Cohan was known for his patriotism. While Cohan gave the World War I soldiers the energetic "Over There," Sgt. Berlin (he served in the U.S. Army) reflected a much more human side of the soldier's life with his "Oh, How I Hate to Get Up in the Morning!"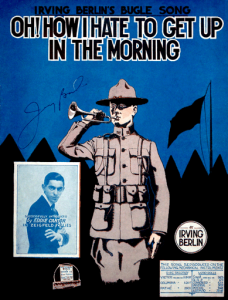 While most musical theatre composed collaborated with at least a lyricist and sometimes a book-writer as well, Berlin held to his practice of writing both music and lyrics, insisting that no collaborator could understand the emotional essence of his music, nor the inherent melody suggested in his lyrics. For Berlin, the conviction worked; his songs contained an emotional intimacy and lyric depth years ahead of many others in theatre and popular music.
Not every song Berlin wrote for musical revues appeared in the show. One song written for a 1919 revue, but pulled and set aside until twenty years later was his iconic patriotic song, "God Bless America."
Berlin's ability to create touching, heart-rending songs of personal reflection and revelation as well as hysterical novelty songs made him one of the most versatile composers in American history.
By the end of the 1920s, musical theatre was becoming tired of musical revues and comedies. The arrival of Kern's Show Boat in 1927 signaled the beginning of a more socially relevant theme in musical theatre. Even the musical comedies were becoming parodies of topical situations and subjects. Berlin's show Face the Music addressed the theme of Americans in the depression era, specifically political corruption and its effect on the common man. Another '30s Berlin show, As Thousands Cheer (1933), was a revue show with a novel twist: all the songs were created from headlines in various sections of the newspaper of the day. News events, society page, funny papers, lonely-hearts columns were all lampooned in Berlin songs. Thousands also contained one of the most moving songs in musical theatre history: African-American stage legend Ethel Waters sings "Supper Time," where she wonders how she's going to tell her children that their father, her husband, "ain't comin' home no more." All the while, Waters was holding a newspaper with the headline "UNKNOWN NEGRO LYNCHED BY FRENZIED MOB." Not until Billie Holiday's rendition of "Strange Fruit" did a song so powerfully capture the horror of racial prejudice in the deep South.
Throughout the 1930s, Berlin spent as much time writing scores for films in Hollywood, composing eight movie musicals in the decade, including Puttin' on the Ritz, and Top Hat. When Jerome Kern died suddenly in 1945, Rodgers and Hammerstein turned to veteran Irving Berlin to tackle the musical project based on the life of Annie Oakley, Annie Get Your Gun. From the 1940s to the 1960s Berlin wrote music for Hollywood as comfortably and as frequently as he did for Broadway.
Berlin lived to be over 101 years of age and was considered one of the most significant contributors of American music, with both song and lyrics transcending eras, genres, mediums and subject material. George Gershwin called Berlin "the greatest songwriter that has ever lived."
Many of Berlin's songs have reached an iconic status in American culture. Although he was born in Russia, his "God Bless America" is considered as popular in America as the national anthem, and although he was Jewish, one of the most endearing and lasting songs of the holiday season is Berlin's "White Christmas." His work in both worlds of theatre and movies uniquely equipped him to write the unofficial anthem of entertainment – "There's No Business Like Show Business."
Jerome Kern said about his friend: "Irving Berlin has no place in American music. He is American music." On another occasion Kern compared the average American with a Berlin tune, saying that both
"have humor, originality, pace and popularity; both are wide-awake, and both are sometimes a little loud… [Berlin] honestly absorbs the vibrations emanating from people, manners and life of his time, and in turn, gives these impressions back to the world – simplified – clarified – glorified."