The structure of the minstrel show, the first great indigenous American musical theatre art form, was broken into three parts or acts.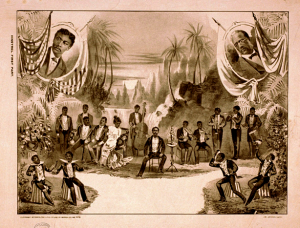 Part One of the show featured the minstrel performers seated in a semi-circle onstage facing the audience. At either end of the performers, dressed in long blue coats, striped shirts and white trousers were two characters called Mr. Tambo (because of his instrument, the tambourine) and Mr. Bones (with his percussive rattlestick or bones). In the middle of the row of between four and 18 performers was Mr. Interlocutor, the Master of Ceremonies and brunt of many of the end men's jokes, stories and good-natured sparring. The other members were singers or equipped with instruments to provide solos, duets, choruses or dances between the actions of the three main characters. Each element – skit, song, dance, or story – was completely independent of anything else. The performer strove to create in that moment, the highlight of the show. There was no plot, no connective theme or idea, but an eclectic smattering of humorous or entertaining moments.
Some of the oldest jokes in American culture were first aired in Part One to minstrel audiences: "Why did the chicken cross the road?" and "Why do firemen wear red suspenders?" Double entendres also assured 1850 audiences that the performers were in authentic blackface. "Why am I like a young widow" asks Mr. Tambo. Mr. Bones repeats the question before Mr. Tambo answers "Because I do not stay long in black!"
A typical interaction between straight-man (Interlocutor) and end man might sound like this:
INTERLOCUTOR: I saw you walking with a young lady yesterday.
END-MAN: Yes, and she saw you.
I: I know she did – she smiled at me. What do you think of that? She was with him and she smiled at me.
E: Smiled at you? That's nothing. The first time I ever looked at you I laughed my head off.
I: Who is that young lady?
E: She's an oculist in Horn and Hardart's kitchen.
I: An oculist?
E: Yes. She takes the eyes out of the potatoes (pause for laughs). She's related to the Burst family. Do you know John Burst?
I: Very well indeed.
E: He's got three children.
I: What are their names?
E: Alice May Burst, James Wood Burst, and Henry Will Burst. (Laughter). They must be full of hot air and gas!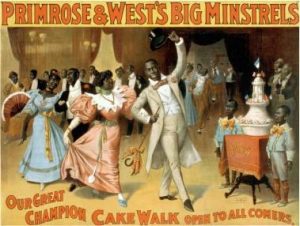 The finale of Act One (although sometimes delayed until the end of Act Three) was a "walk around" dance where the ensemble would sing and playing instruments while circling the stage – each member of the group taking a few moments at the center of the stage to preen, strut, caricature and perform for the audience's approval. By the latter part of the 19th century, this walk-around had been given another name – "cakewalk" copying the term from the challenge-dances performed on southern plantations where black dancers would strut, high-step and jaunt in imitation of white folks at the fancy balls and gatherings. The couple that best entertained with their antic dance would win the coveted prize of a cake. The prize for the cakewalk at the end of the first part of the minstrel show was the audience's acclaim and applause.
Act Two, called the Olio, was similar to Act One, minus the interlocutor and the end men, but often had extended monologues and stories, female impersonators (no women allowed in minstrel companies). A typical monologue was called a "stump speech," where one actor would expound minstrel wisdom on subjects as varied as the power of music on women, the study of "Freenology" (Phrenology) or the afterlife awaiting. One stump speech, printed in Turner's Comic Almanac (1851) scoffed at the guitar, or as it was titled – "Mozart – or De White Banjo":
"Ya! ya! ya! dey calls dis yar instrument a gittar, but it's only a white banjo, or de banjo ob de white folks. Ya, ya, ya! wid de addition ob a neck an shouldas to institute a thorax to put de lungs in, but lor bress me, de banjo doesn't want any lungs, jist provide it wid a natural amount ob de bowels ob de puss, an de vibration darof will walk clar into de catacombs ob de subterraneous globe, an dessusitate de mummies ob de pyramids. Ya, ya! I'se Mosc-art, an I knows de art; de fust, an de last, an de best am "de black art." Dis art has used up Bell-ina, Pagan-ninny, Aunty-ninny, an all de ober ninnies."
Act Three was a complete break in type from the first two acts: an extended play or series of scenes reflecting the simple scenes of the imagined idyllic life on the plantation. A complete change in the nature of this final act took place when George Christy began including a "burlesqued" parody of a familiar play or current event. The melodrama Uncle Tom's Cabin was lampooned to become Aunt Dinah's Cabin or Happy Uncle Tom a story where the plot is twisted to fit a more amenable outcome for the black characters. The standards of theatrical repertoire weren't considered sacrosanct: Shakespeare's masterpiece MacBeth became a minstrel play titled Bad Breath.