Lerner and Loewe
While not as prolific as either Rodgers and Hart or Rodgers and Hammerstein, the team of Alan Jay Lerner and Frederic Loewe, were, for a short time, as significant a force on Broadway as either of the other teams. American Lerner and German Loewe met in 1942, each having been working in musical theatre for a period of years previously. From the late '40s until 1960, the musical theatre teams of Lerner and Loewe and Rodgers and Hammerstein dominated Broadway with six of the finest musicals in theatre history (Brigadoon, My Fair Lady, Camelot, South Pacific, The King and I, and The Sound of Music).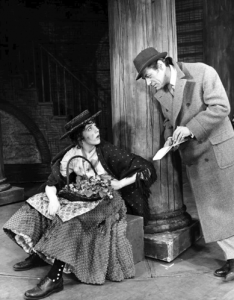 Lerner's training at Harvard, Julliard and Oxford Universities can be seen in his treatment of Brigadoon (two American young men lost in a mystical Scottish town), My Fair Lady (adapted from English author George Bernard Shaw's play Pygmalion about an English professor and cockney girl) and Camelot (the story of King Arthur, Guinevere, Lancelot and the Knights of the Round Table). Though all three works are Anglophonic in nature, just as Lerner was transported to Oxford, his love and respect for English culture comes through for American audiences.
One characteristic which separated Lerner and Loewe from others was Lerner's careful attention to the dialogue and the play – keeping it as true to the original as possible – and not attempting to dilute the dramatic moments in order to appeal to the lowest common audience member. So important was the acting part of the process that in casting the original roles for the two greatest male leads in their finest shows – Prof. Henry Higgins (My Fair Lady) and King Arthur (Camelot) – Lerner and Loewe did not choose singers who could act. Rather, they felt that the role was so important that they were willing to cast actors and then adjust the music to match their vocal abilities. British actors Rex Harrison (cast as Prof. Higgins) and Richard Burton (King Arthur) were not great singers, but so important were the dramatic elements in the play that Lerner and Loewe were willing to sacrifice vocal skills for dramatic skills. In order to make sure the vocals didn't become problematic; Loewe wrote songs for the two actors that were narrow in range and closer to 'sung speech' than those given to other characters, particularly, the female leads (Eliza Doolittle and Guinevere – both originally played by legendary actress/singer Julie Andrews). This use of 'patter songs' hadn't been used in contemporary American theatre since the days of Gilbert and Sullivan.
Aside from these few musical adjustments from 'necessity', Loewe's music was sweeping and ornate. Not since the days of Victor Herbert and Sigmund Romberg had the elements of Viennese operetta been heard in American musical theatre. My Fair Lady's waltzes, including "I Could Have Danced All Night" were direct, if contemporized, descendants of Viennese Lehar's The Merry Widow which swept Europe and the United States when Loewe was only a four-year-old. (Interestingly, the first American tour of The Merry Widow featured German tenor, Edmund Loewe – Frederick's father.) With strong melodic lines and richly orchestrated harmonies, Loewe crafted musical theatre scores which provided support for the character and the moment without detracting from it by drawing attention to itself.
Though their output never rivaled others in terms of numbers, aside from Rodgers and Hammerstein, no other musical theatre team did as much to influence the craft, and to give audiences some of musical theatres most memorable musical moments in the mid-20th century as Alan Jay Lerner and Frederick Loewe.
In December, 1985, Lerner and Loewe were given a Kennedy Center Honor for lifetime contributions to the American arts. In his acceptance speech, Lerner said of Loewe:
"There will never be another Fritz. Writing will never again be as much fun. A collaboration as intense as ours inescapably had to be complex. But I loved him more than I understood or misunderstood him, and I know he loved me more than he understood or misunderstood me."