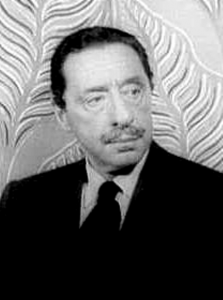 The linkage between African-American culture of the 20th century and Jewish born songwriters was established long before Jerry Leiber and Mike Stoller wrote "Hound Dog" for Big Mama Thornton or groups such as the Coasters or the Drifters.
In the early 1930s, young Harold Arlen, (born Hyman Arluck), son of a Jewish cantor, was writing music for a Harlem landmark of African-American culture – The Cotton Club. By age 28, he had written songs for several musicals including one of the early milestones of African-American pop repertoire – "Stormy Weather." Young Arlen was hailed (incorrectly) by Billboard magazine as the most prolific composer of the century. By the mid-decade, Arlen was in Hollywood, joining other composers like Gershwin, Rodgers, Porter and Berlin in creating songs for the explosion of movie-musicals created in the 1930s.
While Arlen did have a few shows on Broadway early in his career, it was as a composer of Hollywood musicals that his name is most know. Together with lyricists like E.Y. "Yip" Harburg, Arlen created some of the most recognized songs in the 1930s and '40s Hollywood. "Blues in the Night," "Come Rain or Come Shine," "It's Only a Paper Moon," and the song that was designated as the #1 song of the 20th century by both the Recording Industry Association of America and the National Endowment for the Arts – "Over the Rainbow."
At age 21, Judy Garland reprised a performance of "Over the Rainbow" from Wizard of Oz. 1943.
Though more connected with Hollywood than Broadway, Harold Arlen gave America a wealth of songs that are both entrancing and emotional.