Cole Porter
In stark contrast with almost every other composer of the era was the sophisticated, urbane Cole Porter. Born to a wealthy, but conservative Baptist, Indiana family, Porter attended Yale and then went to law school at Harvard. The intellect which caused him to succeed in his studies brought rewarding dividends when applied to music. As one of the rare composer-lyricists in musical theatre, Porter brought wit, charm, panache and a playful spirit to his lyrics and an exotic, quasi-Latin feel to his music. Frequently venturing into the bawdy, many of Porter's songs contained verses that weren't considered 'suitable' to be sung in respectable company. Some of the lines from his 1928 song "Let's Do It, (Let's Fall In Love)" reveal his playfully risqué penchant in lyrics:
And that's why birds do it, bees do it

Even educated fleas do it

Let's do it, let's fall in love

I've heard that lizards and frogs do it Loyin' on a rock

They say that roosters do it With a doodle and cock

Some Argentines, without means do it

I hear even Boston beans do it

Let's do it, let's fall in love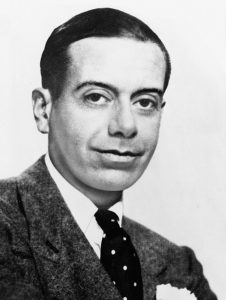 Cole Porter's life was filled with opulence, decadence and heart-break. While most composers wrote for a living, Porter's inheritance from a wealthy family meant that he only needed to write what and when he wished. With a huge bank account, Porter was free to travel to France, Italy or wherever he wished, often purchasing homes, villas or apartments in different countries. Though married for several decades to his beloved Linda, they both understood and accepted that she was a 'beard' to cover his open homosexuality, something that wasn't widely accepted in American society in the 1930s. Their deep friendship and love was accurately portrayed in the 2004 Cole Porter biopic De-Lovely. Following Linda's death in 1954 and the amputation of his legs due to a 1939 horseback riding accident, Cole Porter went into seclusion, his writing career complete. He died in 1964.
During his long career, Cole Porter made a significant impact on Broadway and – unmatched by any other composer – Hollywood. While many musicals in the '40s and '50s were taken to Hollywood and given a movie treatment, Porter wrote complete and distinct movie-musicals such as High Society (1956) and Les Girls (1957).
Of his over twenty stage and film musicals, most noteworthy are Silk Stockings, Dubarry Was a Lady, Can-Can, and Anything Goes. The work considered by many to be his finest, was the musical adaptation of Shakespeare's Taming of the Shrew, Cole Porter's 1948 Kiss Me Kate. In 1949, the first Tony award for best musical comedy show was given to Kiss Me Kate, and the first Tony award for best score went to Cole Porter.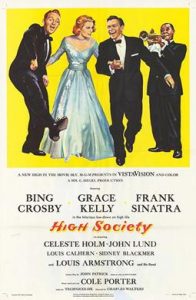 While the titles of Porter musicals have not stayed in the collective consciousness of American audiences as much as those of Rodgers and Hammerstein or Lerner and Loewe, each Porter musical, however unknown, yielded at least one or two songs which have become a part of that compilation loosely known as the American Songbook. "I've Got You Under My Skin," "Night and Day," "Anything Goes," and "It's De-Lovely" have been recorded hundreds of times including recordings and performances by artists as respected as Frank Sinatra, Ella Fitzgerald, Michael Bublé, Diana Krall, Rod Stewart, Annie Lennox, and U-2. The carefree, sometimes romantic attitude of his lyrics and the richly exotic elements of his music are often used in movie soundtracks, musical revues and cabaret performances today.
Following WWII, until the early 1960s, the middle decades of the 20th century, American musical theatre had several other significant talents. Paralleling the efforts of Cole Porter, Rodgers and Hammerstein and Lerner and Loewe were other composers who contributed lasting shows that are part of our rich musical theatre heritage.
From the 1953 movie version of "Kiss Me, Kate" – "Brush Up Your Shakespeare"