Richard Rodgers and ????
It is a prime axiom of story-telling that in order to be complete, a good story must have a beginning, a middle and an end. However, in the case of composer Richard Rodgers, his story has a beginning, a middle, another middle and an end. For most composers, their career can be placed between bookends, Rodgers needs two separate bookends to be completely understood.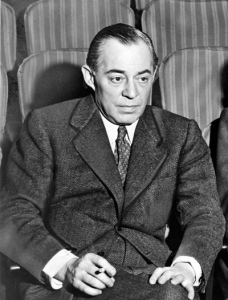 Richard Rodgers, the first great musical theatre composer born in the 20th century, was born in 1902 to a comfortably middle-class, very musical, Jewish home. With a physician doctor who sang and a mother who was a pianist, it would be inevitable that Richard would gravitate towards the piano. Family concerts of operettas, popular music and musical comedy tunes were an integral part of entertainment in their New York City apartment. By the time he was four he could pick out melodies on the piano and by the time he was six he was playing with both hands. Intrigued by musical theatre, he would spend Saturday afternoons attending a matinee of the latest work by his idol, Jerome Kern, Irving Berlin or others. By the age of fifteen he had written songs for his first complete musical, which was performed by a local community group. A year later, a second musical featured sixteen original Rodgers songs, with lyrics provided by both his brother and his father. Five of the tunes were so well received that Rodgers published them himself (with money from his father) to sell following the shows.