The Gershwins: George and Ira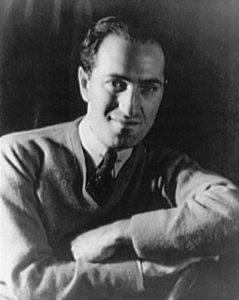 George Gershwin is considered by many to be the greatest and most original of musical talents to address the American musical. Equally adept at comic light musicals as well as heavy dramatic works, George Gershwin created music for theatre stage, movie screen, opera house, and concert hall. Perhaps no other American composer has displayed such diversity of form and versatility of styles with such skill and off-handedness. Together with brother Ira, George gave Americans some of the most memorable, witty and melodic songs in our country's musical history.
Similar to Kern, Berlin and other hopeful songwriters of the day, George worked first as a song-plugger, then as a rehearsal pianist and even as a "transcriber" for Irving Berlin. His first success as a songwriter was his song "Swanee," a song reminiscent of Stephen Foster and the days of American minstrels. It was performed by Al Jolson in blackface in a 1919 extravaganza called Sinbad and the "show-stopping" quality resulted in over a million copies being sold for both the sheet music and Jolson's resulting recordings. The immediate financial windfall allowed George to quit his other work and concentrate exclusively on writing for musical theatre.
Although George and Ira's songs appeared in a number of revues at the beginning of the 1920s, including George White's Scandals (each year from 1919 to 1924), their first full book-musical appeared in 1924 titled Lady, Be Good! From this one musical came several Gershwin classics including "Fascinating Rhythm" – an unabashed celebration of jazz music at a time when legitimate theatre was just beginning to embrace the new sounds.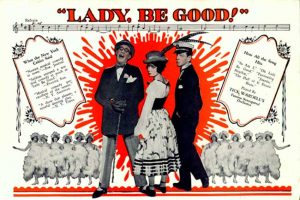 The George-Ira combination proved to be one of the most prolific in musical theatre history. In the nine years following Lady, Be Good! they jointly created twelve other full-length book-musicals, featuring some of the most well-known of Gershwin tunes including "Someone to Watch Over Me," "Embraceable You," and "I Got Rhythm."
For their last Broadway musical before leaving to write in Hollywood, George and Ira created the musical/operatic masterpiece Porgy and Bess in 1935. This ground-breaking work was the first major musical performance created for American audiences which was built exclusively around an all African-American cast. Although the work was commissioned by the New York Metropolitan Opera as a work "in the new native style" of jazz, the Gershwins seemed to consider Porgy to be more of an American musical and opened the work first in the Alvin Theatre on Broadway. Due to the tremendous vocal demands placed on the actors, the work is now most often performed by opera companies rather than theatre companies. Regardless of which label it is given, it is an American classic.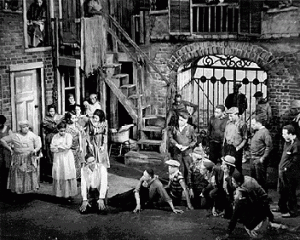 Though ground-breaking, Porgy and Bess was not well received by the American public. It was devastating to George and Ira, not only creatively, but financially. They had both invested heavily in the show. Following the mediocre reception of Porgy and Bess, and perhaps to recoup from debts, the Gershwins agreed to a change of venue and a change of medium. They moved west to Hollywood where they created three movie musicals before George collapsed and died of a brain tumor in 1937.
The loss of his brother brought temporary creative paralysis to Ira, but four years after George's death, Ira decided finally move on to work with other composers. Over the next twenty years Ira worked with some of the finest of theatre composers, including Kurt Weill, Harold Arlen, and Burton Lane.
In 1992 the musical hit Crazy for You, a major reworking of Gershwins' Girl Crazy, with plot revamped and most of the songs replaced with more familiar Gershwin fare, opening on Broadway. The musical was an unashamed throw-back to the era of Fred Astaire and Ginger Rodgers, complete with a Ziegfeld-esque production and the timeless music of George and Ira. The show ran for almost four years, presenting over 1,600 performances in New York, won three Tony awards (given for excellent on Broadway) and resulted in productions in cities like London and Tokyo, and several touring companies. The music of Gershwin still contains magic and relevance at the beginning of the 21st century.
In addition to creating music for stage and screen, George Gershwin also brought his work to the concert hall. Two piano-orchestral works are part of the standard American symphonic repertoire: "Rhapsody in Blue" and "American in Paris."
Though his career lasted less than twenty years, George Gershwin impacted the whole of American music like none other. The book-musicals and movie-musicals created with Ira were important in solidifying the format, and the resulting wealth of songs have become a cornerstone of the repertoire called the "American songbook." Fascinatingly, many of Gershwin's songs, which were influenced by early jazz, found their way back to jazz in the 1950s and '60s as starting points for improvisation by bop jazz masters like Dizzy Gillespie and Charlie Parker.
Irving Berlin helped to bring acceptance to a style of American music called "ragtime." Jerome Kern blended elements of the colloquial sounds with the elegance of American operetta. But, the importance and contributions of the Gershwins was that they gave voice to the contemporary sounds of America by broadening the idiom of musical theatre to accept, without sanitization, a new style of American music called jazz.