George M. Cohan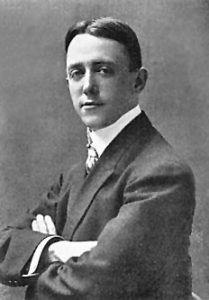 While Victor Herbert represented the carefully crafted musical traditions of operetta, at the other end of the musical theatre spectrum was a genius who was less in-tune with Viennese traditions and sculpted orchestrations than he was with street slang, catchy melodies, and uncomplicated harmonies. Not only were they essentially from two different centuries and generations, in physical appearance and approach to the stage they were from two different theatrical worlds. Next to the portly, cultivated, gentlemanly, mustachioed 19th century Victor Herbert, George M. Cohan was a young, dapper, brash, energetic dynamo of a man of the 20th century. While Herbert crafted sophisticated orchestrations with complex harmonies, the musically untrained Cohan, almost twenty years younger, built almost all of his songs from four simple chords he could play on the black keys of the piano.
George M. Cohan was born into a vaudeville family on July 4, 1878. Although the birth certificate states his birth as a day earlier, significant evidence exists that he was, as he said in his song "Yankee Doodle Dandy," "born on the Fourth of July." As part of the "Four Cohans¸" George was educated on the boards from age four, travelling the vaudeville circuit with parents and sister Josie. By the end of the 19th century the "Four Cohans" had earned top billing not only on the vaudeville circuit, but in New York, the heart of American theatre.
Cohan began writing songs and sketches for his family while still in his early teens. By his mid-teens he made it his goal to conquer Broadway. His first attempts at full-length musical shows, where the book (story), music, lyrics, direction and choreography were all by twenty-two year-old George M., were moderately received.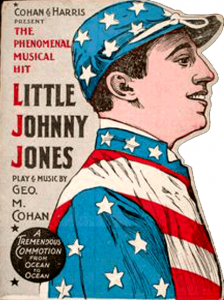 While reading the newspaper late in 1903, Cohan read the story of a flamboyant, swaggering, American jockey who had won the English Derby. Recognizing the seeds of an American, flag-waving story, Cohan wrote the story and music for an iconic milestone of American musical theatre: Little Johnny Jones. Although Cohan's earlier musicals were vaudeville sketches fleshed out into longer versions, Little Johnny Jones was created from scratch as a complete musical theatre project. In contrast with the multisyllabic rhymes, inane and archaic vocabulary, and awkward grammatical contortions that were characteristics of operetta and more 'proper' theatre, Cohan shockingly borrowed slang from the streets of New York and gave his hero dialogue that shocked theatre critics but delighted audiences. Not only was Little Johnny Jones patterned after the common man, he was unashamed in his American bravado. Songs like "I'm A Yankee Doodle Dandy" and "Give My Regards to Broadway" exuberantly celebrated patriotism and connected with a middle-class American theatre audience.
One of the significant features of Little Johnny Jones' music was its role as an extension of the character's personality and the action and mood of what was happening at the moment. The songs further aided in progressing the plot development, something not always observed in 19th century musical comedy productions.
Little Johnny Jones was the first great American musical of the 20th century. Opening just one year after Victor Herbert's operetta masterpiece Babes in Toyland, Cohan's 1904 work was the antithesis of the aloof, cultured and composed operetta – it was progressive, accessible, cohesive, and modern. While Babes in Toyland was viewed by the public as "art," Little Johnny Jones was pure "entertainment." At a time when stages were being given over to operettas like The Count of Luxembourg, The Balkan Princess, The Maid of Athens, and The Girl from Brazil, a musical comedy based in America was a welcome arrival. The exoticism of the stories from afar was becoming a tiresome theatrical trip. One critic at the time called Little Johnny Jones
"… a musical comedy with all the customary insanity eliminated. The characters act and speak and move like really and truly human beings, and while there is no pretense at seriousness, there is no lapse into horse play or imbecility in straining after fun, as there is in so many of the rival attractions."
When Little Johnny Jones was followed by Forty-five Minutes From Broadway in 1906, which followed the same formula of catchy tunes, accessible lyrics and identifiable characters, it was greeted by audiences with even greater success. Cohan's creative dominance of Broadway ran until the end of the 1920s when new forms of musical theatre replaced the brash energy of his work, but his place as the "Dynamo of Broadway" was secure. One theatre critic unashamedly acknowledged him to be "an American institution."
Today, a bronze statue of George M. Cohan stands on Broadway in New York. A movie musical biopic starring James Cagney called Yankee Doodle Dandy came out in 1942, the year Cohan died. A hit Broadway musical, George M, was staged in 1968 with theatre veteran Joel Gray in the lead role.
George M. Cohan's own words reveal the approach he brought to theatre.
Regarding the pace of his shows, which were stark contrasts with the deliberate and sometimes lumbering unfolding of operettas, Cohan said that the key to his shows was "Speed! Speed! And lots of it! That's the idea of the thing. Perpetual motion!"
When returning from a tour to surprise a New York production of one of his shows after being gone for several months, he assembled the cast and crew and announced that there would be a "rehearsal tomorrow morning at ten to take out all the improvements" that had been added without his approval.
A close friend of Cohan is quoted as having said:
"George is not the best actor or author or composer or dancer or playwright. But he can dance better than any author, write better than any actor, compose better than any manager, and manage better than any playwright. That makes him a great man."
When Cohan died, then New York City Mayor La Guardia said of the musical icon – "He put the symbols of American life into the American musical."
Entertainment newspaper writer Cecil Smith summarized Cohan's impact on American musical theatre:
"Whatever the merits of their content, Cohan's musical comedies introduced a wholly new conception of delivery, tempo and subject matter into a form of entertainment that was rapidly dying for want of new ideas of any kind. Brushing aside the artificial elegances based on English and German models, he reproduced successfully the hardness, the compensating sentimentality, and the swift movement of New York life, which, except for surface sophistication, has not changed much between then and now."
The delineation line for American musical theatre between the ponderous, over-produced and archaic 19th century forms influenced by European models and the modern era of American musical theatre is not only a single show, Little Johnny Jones, it is a single individual, most often recognized as the "Father of the Modern American Musical" – George M. Cohan.