Stephen Sondheim
Stephen Sondheim is one of the rare entities in musical theatre: a composer-lyricist, following the footsteps of a successful few which include Irving Berlin, George M. Cohan, Cole Porter, Jerry Herman, and Frank Loesser.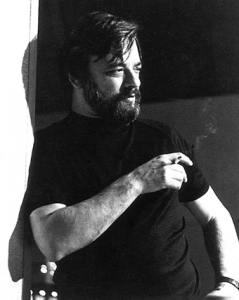 Sondheim's career began as a lyricist, brought onto the West Side Story project by composer Leonard Bernstein. Although Sondheim was reluctant to take on the task, mentor Oscar Hammerstein II strongly recommended that he would learn a great deal working beside creative individuals such as Bernstein. The resulting product was musical theatre history, and established Sondheim's reputation as a lyricist. Undoubtedly, the collaboration with Bernstein also impacted his compositional technique as can be seen repeatedly in productions ever since West Side Story.
Two years later Sondheim signed on to do both music and lyrics for a new musical based on the life of stripper Gypsy Rose Lee. When lead actress Ethel Merman balked at having to trust the twenty-nine-year-old with writing music for the show, producers brought in veteran musical composer Jule Styne to write the music, limiting Sondheim to just writing lyrics. Like West Side Story¸ Gypsy was a Broadway hit, was made into a movie musical and further solidified Sondheim as a musical lyricist.
The first opportunity that Stephen Sondheim had to demonstrate his talent at both music and lyrics was the 1962 vaudevillian romp, A Funny Thing Happened on the Way to the Forum. Based on the farcical plays of Plautus (2nd century B.C.), Forum's outlandish plot centers around Roman slaves, warriors, a lecherous senator and his wife, and beautiful courtesans, all linked together with slapstick, sight gags, puns, anachronisms and wonderfully crafted music and lyrics. The show was rewarded with six Tony awards, including Best Musical, and had an original run of 964 performances, more than either West Side Story or Gypsy.
By the beginning of the 1970s, Sondheim was in full stride, creating five musicals in the decade including the extremely important works: Company (1971), Follies (1971), A Little Night Music (1973), and culminating with Sweeney Todd, The Demon Barber of Fleet Street(1979). Though moderately successful (each of the four listed had runs of between 500 and 800 performances), Sondheim's works have been critically acclaimed as fascinating and unlike anything else produced on the American stage. The unique quality of Sondheim's music and searing, ingenious lyrics are the thumbprints that make his productions masterpieces of musical theatre.
A Funny Thing Happened on the Way to the Forum Highlight Video for 2013 production by Two River Theater.
In the '80s and '90s Sondheim brought further works to the stage: Sunday in the Park with George (1984) and Into the Woods (1987). Sunday explored the life of French pointillist painter George Seurat at the turn of the century. In a brilliant show was innovative in its structure, its staging and its sound. Exploring the agonizing process that artists go through while creating their work, Sunday contrasts the pointillist George (Act I) with contemporary (and great-grandson) George, one hundred years later (Act II). The profundity of the lyrics, unlike anything preceding them in musical theatre, was aided, but never overshadowed, by Sondheim's sometimes pointillistic, musical score. Sunday won Sondheim a Pulitzer Prize for Drama in 1985 and has gained in popularity over the past twenty-five years.
From the 1984 Tony Awards: French pointillist artist George Seurat "assembles" his masterpiece from family, friends, strangers, and his love, Dot in Sunday in the Park with George.
In contrast with the cerebral and angst-filled world of French artist George Seurat at the end of the 19th century, at first glance, Sondheim's Into the Woods seemed like child's-play. Indeed the subject matter – characters from different and diverse fairy tales all meeting in the woods at the same time – sounds like the beginning of a vaudevillian romp rivaling Forum in its possibilities. Similar to the 'two acts – two stories' idea that Sondheim developed in Sunday in the Park¸ Into the Woods explores the story of nursery rhyme characters with crisscrossing goals, sometimes helping, sometimes hindering one another from achieving them. After each character has met their goal, by the end of the first act, the second act shows each of them having to live with the goals they met. Reality isn't as they thought, or hoped, it would be. Filled with allegories, Into the Woods explores life values and relationships. Far from juvenile, Woods takes the predictable and obvious to new depths of meaning and significance. Like almost every other Sondheim musical, the mind and the emotions are challenged by deep lyrics as much as the senses and ears are stimulated by sight and sound.
Through the '90s and until today Stephen Sondheim has been a creative force on Broadway, in the movies and on television. Two musicals in the '90s, Assassins (1991) and Passions (1994), were generally praised for their artistic work, but panned because of their highly controversial or complicated storylines. Sondheim's work in film has included providing music for the movie Dick Tracy in 1990 (for which he won an Oscar for Best Song), the movie Reds (1981) and The Birdcage (1996). In recent years he has appeared (as himself) on an episode of The Simpsons (2007), oversaw a film version of Sweeney Todd (2007) and is the only individual to have won an Oscar, a Tony (eight actually), a Grammy (also a total of eight), and the Pulitzer Prize. He has been given a life-time achievement award at the Tonys and a Kennedy Center honor for his life-time achievement in the arts.
While many other composers and lyricists have enjoyed commercial success with easily accessible works, Stephen Sondheim has elevated himself to the unofficial position of 'Dean' of American musical theatre not by creating sycophantic lyrics with easily hummable tunes. Although some songs after the early period of work have found their way into the broader culture of American popular music, most notably "Send in the Clowns," most of Stephen Sondheim's work parallels a cerebral path rather than a one that conforms to pop, mainstream criteria. In this, Sondheim is the thinking man's musical theatre composer. Shunning any formula, eschewing any predictability, Sondheim is, like Louis Armstrong and Elvis Presley, a class unto himself. As comedian and theater playright Mel Brooks has said, Sondheim casts a long shadow across theatre.