New Sounds, New Ideas in the 21st Century
Since 2000, musical theatre has seen the edgy, the hysterical, the controversial, the nostalgic, the conformists, and the revolutionary.
It would have been a shock to Rodgers and Hammerstein, but perhaps not to Cole Porter that the hit musicals on Broadway in the last decade dealt with towns drinking urine, teenage sex and "R" rated puppets. The 2001 musical Urinetown was a satirical, irreverent show about a town where a severe water shortage has caused the residents to resort to another liquid in order to stay alive. What would appear to be simply a musical in bad taste is actually a clever story line with creative, albeit shocking, songs. Urinetown's Broadway success has been picked up by college, community and school theatre programs since it won Tonys in 2002.
Spring Awakening in 2006 combined a 19th century story about adolescent sexuality with rock music to create a 'new and daring' one-hundred-year-old story. Breaking from theatre tradition, lead performers grab hand-held microphones to sing rock-musical numbers about abortion, masturbation, homosexuality, rape, suicide, bondage, and general sexual confusion among 19th century teens. The production, a particular favorite of younger audiences, won eight Tonys in 2007.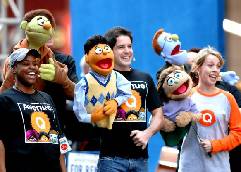 Far from "Sesame Street" or "The Electric Company" was a puppet show for those who had grown up with Big Bird, Bert and Ernie. With humans and puppets, similar to Jim Henson's crew at the Children's Television Network, the cast of Avenue Q presented a cheeky, sassy world where discussions of manners, letters and numbers were replaced by songs about issues relevant to those beyond the age of thirty. With songs about job loss, homosexuality, pornography and racism, Avenue Q was an edgy, irreverent approach to adult humor. Similar to Spring Awakening, this 2003 musical had a distinct demographic age group.
When it seemed as if Broadway had grown up and lost the ability to produce zaniness and humor appealing to a broader base, along came a series of musicals that rediscovered the elements that are in a direct lineage from burlesque and vaudeville. Mel Brook's 1968 movie "The Producers" was brought to Broadway in 2001 with a silliness that was reminiscent of the Marx Brothers in the 1930s. With performances by Nathan Lane and Matthew Broderick, The Producers was a surprising box office success. The hysteric moments created on stage during songs like "Springtime for Hitler" and "Keep It Gay" made The Producers a hit with audiences (2,502 performances of the first run) and critics (being awarded a record twelve Tony awards in 2001). Brooks followed The Producers with a stage version of one of his other 1960s movies, Young Frankenstein.
Other madcap musicals of the 2000s include two others brought from the movies to the stage in 2005: the Monty Python adaptation Spamalot, a farcical look at King Arthur's England and Dirty Rotten Scoundrels, adapted from the original movie starring Michael Caine and Steve Martin. It was clear that Broadway hadn't lost its taste for craziness in musicals; both Spamalot and Dirty Rotten Scoundrels won Tony awards in 2005. A third zany musical circles around the "what if" musicals theatre was discovered in the time of William Shakespeare, Something Rotten began its run on Broadway in 2015.
Nostalgia played a part in the arrival of several Broadway shows since 2000. Hairspray, in 2002, was an adaptation of the 1988 cult film by John Waters. Set in the 1950s, Hairspray was an innocent romp more topical than Bye, Bye, Birdie, and less self-absorbed than Grease. The funny, carefree performance was set in the racially segregated culture of 1962 Baltimore. Beneath the period-like choreography, carefree tunes reminiscent of the era, and well-defined characters was a story of racial segregation and the unity of black and white spirits of different generations that helped overcome it. Hairspray's success on Broadway was followed by a movie version of the musical in 2007 starring John Travolta and Christopher Walken and a number of young actors.
Jersey Boys at the 2006 Tony Awards
Two juke-box musicals also appeared in the 2000s: Jersey Boys (2005) and The Million Dollar Quartet (2009). Jersey Boys was a biographical look at Frankie Valli and the Four Seasons, a croon-pop group with hit songs in the 1950s and 1960s. With classic pop-rock songs like "Can't Take My Eyes Off Of You" and "Sherry," Jersey Boys transported audiences back to an era when a falsetto tenor lead a group of short-haired, white-shirted, white-sock singers to screaming young fans. From the same time period, but the other side of the charts, The Million Dollar Quartet gave audiences a glimpse into rock 'n' roll history: the afternoon in 1956 when Elvis Presley, Johnny Cash, Carl Perkins and Jerry Lee Lewis spent a few hours singing and hanging out in Sam Phillips's Sun Studios in Memphis, Tennessee. Filled with classic early rock and rockabilly songs by the four rock 'n' roll legends, Quartet, which opened on Broadway in April, 2010, is as successful in transporting audiences back to Sun Studios as any other nostalgic musical.
Perhaps the most important new voice on Broadway since 2010 is Lin-Manuel Miranda. Like Andrew Lloyd Webber, his first musical, In the Heights, was written as a school project, which eventually made it to Broadway in 2008. In the Heights won four Tony awards, including Best Musical and Best Choreography of a Musical, a Grammy (Best Album of a Musical Show) and a nomination for a Pulitzer Prize. Proving that his talent extended beyond a single show, Miranda brought Hamilton to the Broadway stage in 2015. Hamilton exceeded In the Heights in awards and cultural impact. In 2016, Hamilton was given a record sixteen Tony nominations, winning 11 of them, including Best Musical. It also won a Grammy Award for Best Album of a Musical Show and, going one step beyond his first show, Hamilton won the 2016 Pulitzer Prize for Drama. The show, which combined traditional musical theatre sounds with rap, hip-hop, and rock 'n' roll, giving musical and lyrical nods to influences as diverse and Gilbert and Sullivan, Rodgers and Hammerstein, and Stephen Sondheim. Hamilton, with its brilliant lyrics and diverse music, has brought musical theatre to a new generation of theatre fans who weren't even born when Phantom of the Opera, Les Miserables, and Miss Saigon closed out the 20th century.
2016 Tony Awards performance of highlights from Hamilton
Traditional Book-Musicals
While revivals, revues, live animated, nostalgic, or edgy shows occupied a majority of stages on Broadway during the first decade of the 21st century, a few musicals in the more traditional book-musical format found audience acceptance. New musical comedies such as The Drowsy Chaperone (2006), Curtains (2007) and 9 to 5, The Musical (2009) fit the classic book-musical comedies of the past. Shows also opened with a greater emphasis on dance, such as Billy Elliott: the Musical in 2008.
One of the most successful Broadway shows of the decade followed the established format of the serious book-musical with periodic undertones of humor. Wicked, a pre-quel to the story of The Wizard of Oz, opened in San Francisco before moving to Broadway in 2003. With spectacular effects and technical wizardry, Wicked tells the story of Glinda (the Good Witch) and Elphaba (who would eventually become the Wicked Witch) and the friendship between them. As the story unfolds, the green skinned Elphaba is ostracized by the others in Oz, and in spite of Glinda's attempts, Elphaba is gradually pushed towards a darker side, choosing wickedness and retaliation towards the people of Oz who persecuted and scorned her. With music by Stephen Schwartz (who previously wrote Godspell and Pippin), amazing visual effects and costumes, and an engaging story line, Wicked has been an audience favorite on Broadway and on other stages around the world, making it one of the most successful new musicals of the early 21st century.